Lead modification
Control glycosylation like never before
Using our proprietary chemical methods, GlyTech is able to truly design and control the glycan profile of a target compound (glycan position, structure, and number) while bypassing the need for gene editing and cellular expression. As a result, heterogenicity issues, complicated purification, difficult characterization, and the need for biological contaminant removal are no longer hurdles in the development of glycosylated therapeutics.
Selective chemical glycosylation offers a new way to develop promising new drug candidates and advance existing biotherapeutic candidates to the next stage.
Why glycosylation?
Glycan are natural abundant biomolecules in human body and are essential for the structure, stability, functions, and trafficking of peptides and proteins. They're also important in not only cell signaling but also pathological processes, including infection and inflammation.
We believe that glycans will become the next key in unlocking the mysteries of the human body and diseases and allow the creation of novel types of biotherapeutics for serious diseases that currently have limited treatment options.
…Learn more
Advantages
Biomolecules that naturally occur in the human body
Bio-compatible: low risk of immunogenicity and unexpected toxicity
Versatile
Potential functionality
Improve aqueous solubility
Increase stability and circulation lifetime
Enhance in vivo biological activity or receptor selectivity
Suppress immunogenicity
Decrease aggregation
Why GlyTech?
GlyTech, Inc. combines the highly versatile capabilities of glycans with chemical glycosylation technology, positioning us at the forefront of glycosylated biotherapeutics development. We support you in designing and realizing unique glycan patterns to help your target compounds reach your development goals and enhance their chances of success.

Screen for the best position
We can freely insert one or more glycosylation sites along a peptide backbone, allowing us to screen for more glycosylation sites than achievable with other methods to find the best position to balance stability and binding affinity.

Select glycan structure(s)
The choice of glycan structure can alter the properties of a target peptide, such as stability, bio-distribution, and activity. We help you select appropriate structures based on established knowledge, cutting-edge research, and our many years of experience.

Specify the number of glycans
Although glycans are smaller in molecular weight than other artificial polymers, the half-life of a target molecule can be further prolonged by increasing the number of glycans attached without greatly reducing its affinity or activity.
Process and benefits
Process
Our experts start by defining the potential glycosylation sites and selecting glycan structures that are most likely to suit your project aims and requirements. The designed glycoforms are then chemically synthesized and delivered for screening and evaluation. Further rounds of design and synthesis can be carried out until an optimal glycoform for your project is achieved.
Our scalable glycosylation platform and glycan manufacturing technology means that optimized glycopeptides can be seamlessly advanced to large-scale production and then to GMP level API manufacturing. We're ready to support you throughout the entire development process.
Benefits
High-performance platform (highly promising leads)
Lasting competitiveness (highly original compounds with robust IP)
High quality deliverables (high quality synthesized candidates)
Client owns up to 100% of drug candidate patents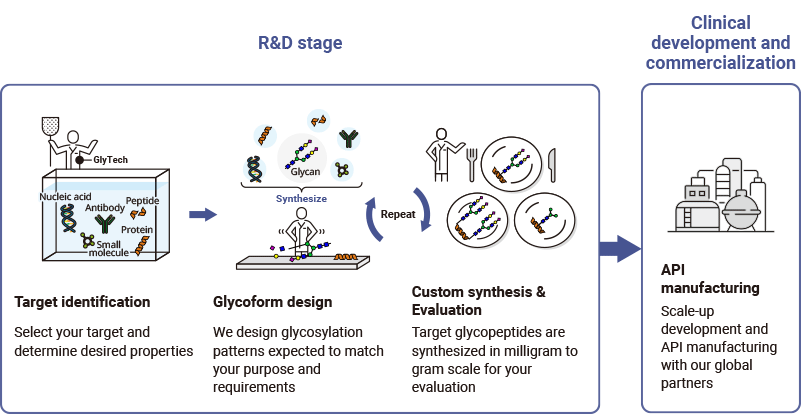 Case study
Better biotherapeutics using glycans
Our own chemically glycosylated somatostatin candidate demonstrates the power and utility of our platform.
Selective attachment of a glycan to somatostatin successfully prolongs its half-life without sacrificing its full 5-receptor affinity, rare for a somatostatin analog.
Successful Phase I clinical trial has confirmed the safety and tolerability of this glyco-somatostatin, which represents a promising therapeutic candidate for patients with needs unmet by current commercial analogs and for shedding light on new indications related to different somatostatin receptor subtypes.